Email us if you have any neighborhood history to share
The North Shoal Creek neighborhood that we know today formed over time as a series residential and commercial developments starting in the late 1950s and early 1960s with the construction of the Steck Company printing facility at what is now the site of the Lowe's shopping center. Prior to 1960, the area was outside of the city jurisdiction and the land was used for agriculture and rural homesteads.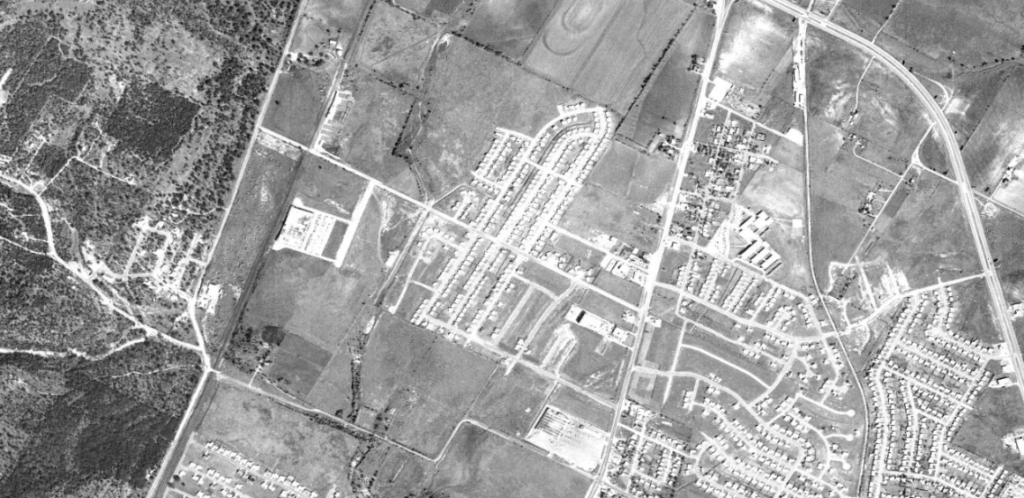 Land History
Pre-1860
In research compiled by local historians Richard Denney and Michael Barnes, "Tracing native trails across Austin" , the area around the North Shoal Creek neighborhood was known in the early 19th century as a waypoint where the trail north along the Balcones Escarpment (see "Trail Going North") met the trail northwest into the Hill County towards Holland Springs (map, today near Burnet, TX). Today these trails are the highways Mopac and 183. Serving this waypoint was what is now called Spicewood Springs (map), which was used by indigenous groups such as the Comanche people and their allies, as well as by early Anglo and Spanish colonists. Denney describes in "The Death of Jane Simpson at Spicewood Springs" that historic records show that the area around Spicewood Springs was a site of conflict in 1844—1845 between native groups and early Anglo colonists, noting that Shoal Creek, and the larger Balcones Escarpment, formed the front line of the Texas-Indian War / Comanche Wars in the 1840s. Spicewood Springs currently flows from its source at Spicewood Springs Road at Ceberry Drive, under Mopac, along Foster Lane, and into Shoal Creek at the Foster Lane bridge behind Fresh Plus Grocery.
The Original Texas Land Survey (OTLS), which describes the location of the original land parcels registered by the Anglo Texas government, shows that the North Shoal Creek area was originally parceled out in 1841 to James P. Wallace and George Washington Davis (whose homestead was near what is now Beverly Sheffield Park; see "George Washington Davis: Early Settler on Shoal Creek")
Circa 1900
Richard Denney's blog also provides links to the 1898—1902 Travis County Road Books, which document the location of public roads in the county at the time, including Upper Georgetown Road (now Burnet), Jollyville Road (now Mopac), Spicewood Springs Road (now partly Anderson and Foster Lane), and Fiskville Road (now 183). The county road books also document the landowners of properties that the roads intersect.
Landowners (not necessarily residents) in the North Shoal Creek area in 1902 included:
John La Prelle – possibly related to development of La Prelle Place, ca. 1910
Anderson
William Robinson – 8530 Burnet Road was the site of the Robinson homestead

Crestview Pharmacy's late owner J. D. Harper recalls that "Brentwood Park was pastureland and farmland, so there were a lot of farms in this general area. The Robinson family owned a lot of the land along Burnet Road. Those are the Robinsons who still are very active in Austin White Lime (see austinwhitelime.net/history.html). The original Robinson land went all the way from Steck north. There was an old farmhouse near 8530 Burnet Road which was the Robinson homestead. That land was purchased by the Robinsons' ancestors in 1865. I bought that from the Robinsons (Sam Robinson) in 1986. I just bought where the house was, and at that point they still had the windmill and the water trough for their cattle, and I've since taken it all down." (from interview by Susan Burneson and John Leffler in 2004, https://www.violetcrownvoices.com/j-d-harper-interview-april-2004)

George Walling
Kirk Williams
Mrs. A. B. Payton
Daniel McKenzie
Edward Foster
Travis County Road Book, 1898—1902
Front Page:
texashistory.unt.edu/ark:/67531/metapth787616/m1/9
Jollyville (Mopac) :
texashistory.unt.edu/ark:/67531/metapth713044/m1/114
Spicewood Springs (Anderson) :
texashistory.unt.edu/ark:/67531/metapth713044/m1/92
Fiskville (183) :
texashistory.unt.edu/ark:/67531/metapth713044/m1/94/
Upper Georgetown (Burnet) :
texashistory.unt.edu/ark:/67531/metapth713044/m1/20
(image below)
---
Early Commercial Development
In 1958 the Steck Company printing facility was constructed at what is now the site of the Lowe's shopping center. Steck Company later became Hart Graphics. Steck Avenue was constructed to provide access to the facility entrance (now the intersection of Steck and Shoal Creek Blvd), as well as provide a cross route between Burnet Road and what was called Balcones Trail or Balcones Road (now the Mopac frontage road).
Below is a 1958 image of the Steck Company facility embedded from the Portal to Texas History, https://texashistory.unt.edu/ark:/67531/metapth19507/
---
Early Residential Development
The area bounded by Burnet Road, Mopac, Anderson Lane and Research Blvd has been known by a number of names: Northtowne, Northtowne West, Allandale Estates, Allandale Place, Northwest Terrace and Cottages of North Shoal Creek. Each name represents a different subdivision area of development that as a whole constitutes the North Shoal Creek Neighborhood.
A map of each subdivision and the dates when they were built. (Click map to enlarge).
The first suburban residential subdivision development in the neighborhood was the Northtowne Estates "Enchanted Village" which started construction in 1960, followed by the "Enchantment 1961" models the following year. The original Northtowne propery was owned in 1960 by real estate developer Pat H. Stanford. The Northtowne homes were constructed and sold by Dallas company Centennial Homes / Centennial Construction Company, led by Lawson Ridgeway and Warren Clark, one of the largest home builders in Texas at the time (https://taylorduncan.com/about-us/team/team-bio/).
---
Historic Documents
Use the map below to view historic aerial (aircraft) photographs taken of the North Shoal Creek area in various years going back to 1940. Turn on and off each year's imagery layer in the sidebar.
We also have a copy of a full page advertisement from the October 23rd, 1966 Austin American Statesman newspaper of the Allandale Estates development. (Thanks to Margaret Schuenemann for keeping the original)
Also an advertisement for Cottages at North Shoal Creek.
Here is a 1960's photo of Margaret and Lee Schuenemann's house on Stanwood Drive surrounded by a huge field… This area is now completely filled with our neighborhood.
Later views of that same house can be viewed here and here
Prior to the development of North Shoal Creek Estates (1997 to 1999) that area was undeveloped land well known as a large field of bluebonnets in the spring. Three photographs of the area taken by the late Claudell Migl can be viewed by these links: bluebonnets 1, bluebonnets 2 and bluebonnets 3