Be a part of North Shoal Creek's holiday tradition!
We need about a dozen volunteers to assemble and set out luminarias from 3:30-5:30 p.m. on
Thursday, December 15ᵗʰ. Another 6 or so vol unteers are needed for cleanup afterward (from 8
p.m. to 8:45-ish). We also need to borrow 2 tables for the refreshments, plus a recycle bin and a
trash bin. Lastly, we need 6 or so volunteers to serve refreshments.
If you can help with setting up or taking down the luminarias, or if you can lend us a table or
two, a recycle bin, or a trash bin, please email social@nscna.org. In you email, tell us what you
can do, when you'll arrive, and for how long you can help.
This is a family-friendly event; volunteers of all ages are welcome. Youthful energy is
especially welcome assembling and placing the luminarias, so please bring along any kiddos needing
to run off some energy!
Of course, we invite every North Shoal Creek resident to visit the display from 6 to 8 p.m. to
enjoy a beautiful luminaria walk followed by hot cocoa and cookies with neighbors. We hope to see
you there!
.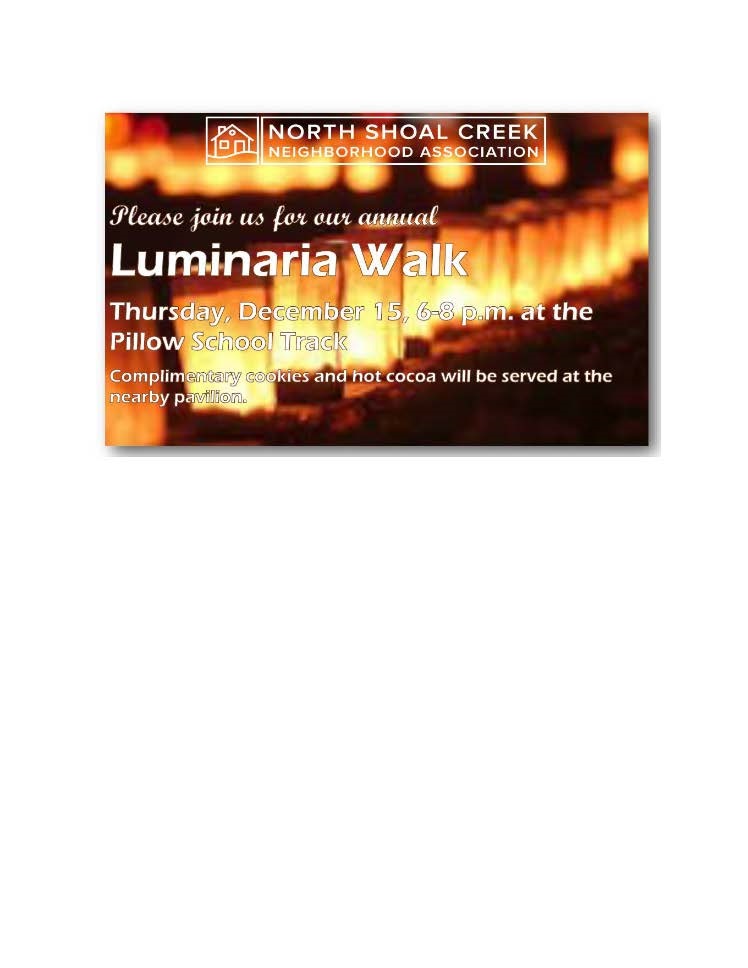 Luminaria Walk is Thursday, December 15, 6-8 p.m. at the Pillow School Track